MOB Rural Health Centre (MOB Mandya), Located in Mandya — Mysore district, is a small NGO with a big impact in 1992, run by the daughters of the church initiated with purpose Of eradication Of leprosy and later extended to providing awareness on HIV/AIDS, empowerment of women, education, livelihood, health, rehabilitation of the disabled to name a few.
We started "DESTITUTE HOME" project in August 2017 to eradicate the starvation among destitute elderly people in Mandya district Karnataka. Since then, 27 inmates have passed through our center. We managed to expand its capacities through kindhearted persons without any governmental support. We need your continued support to enable our ultimate potential to work for the lives.
We are constructing a building to take care of leprosy patients. The building can accommodate up to 15 patients. The first phase of building construction had finished. The allocated fund for constructing building foundation exceeded due to loose waterlogged sand and the construction is in halfway. We are unable to start the final phase of construction due to insufficient fund.
Only your support can help us to bring our dream into a reality which brings a smile to the lives.
Generous hearts can also supply the following things to facilitate the newly constructing building
| | | |
| --- | --- | --- |
|   Building Construction Materials | Building Furniture | Computer with table |
|   Medicines | Medical Equipment | Thermometer |
|   Sugar Checker | BP apparatus |   |
|   Office Table and Chairs | Bed sheet & Bed cover  | Mattresses(Single & Double) |
|  Inverter | Water Purifier | Refrigerator |
We are seeking funding of ₹1.85 crores to cover our operations and expand our reach to more PwDs, marginalised women, Leprosy patients, and destitute people over the next 3 years. Our budget for 2019-20 is ₹55 lakhs.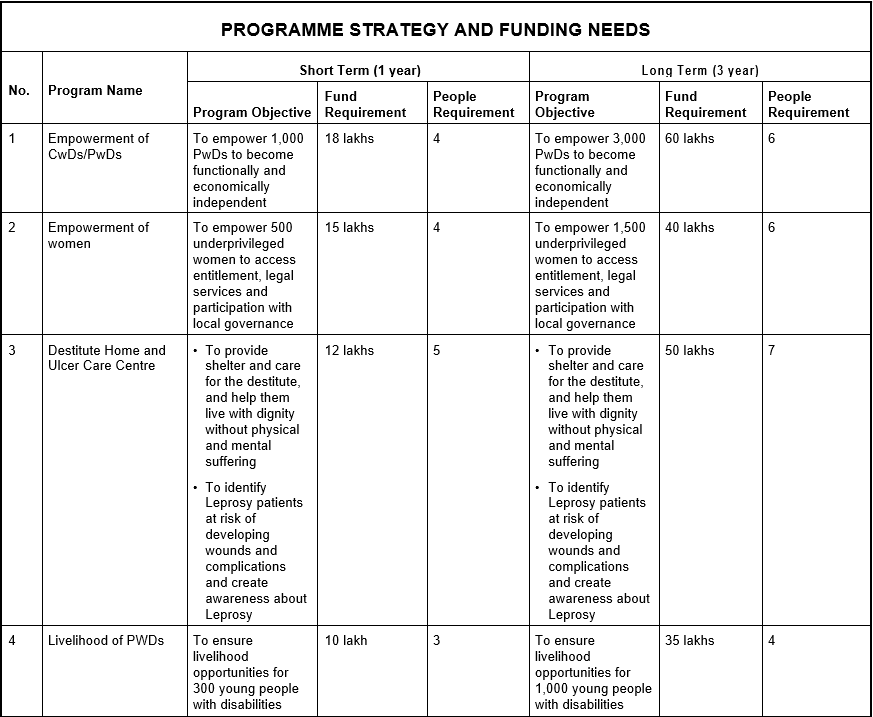 For Donations over the phone, Please contact
+91 755 981 7952, 08232 231 214
Call us and confirm your donation along with your contact details, we may arrange a pick-up of your donation cheque from your address of convenience.
Your donation will help us to build more business that serves the poor. Simply fill the form below, we will keep in touch with you. 
(All donations made to MOB Rural Health Centre are eligible for tax exemption under section 80G of the Income Tax Act. 1961.)